Data Structure - DijkNode
network[0,1] is a single DijkNode. Each DijkNode stored in the first row (network[0,somenumber]) has information on that x node only as it relates to the 0th node. In other words network[4,9].min_dist would tell you the minimum distance that it would take to get to the 9th node from the 4th node. So once we've filled out this entire 2D array we will be able to look up the fastest path between two nodes in terms of waypoints of other nodes. Example of how you would grab the fastest path is at the bottom, it won't work until we've constructed a network and filled the 2D array out though. This is where Dijkstra's algorithm comes in, we would implement it to fill in our data table.
If you look back at this image, you'll see all of the nodes (empty game objects with pink cubes added for visibility) that I've placed in the stone/sand maze in Plunker. These are hand placed but at the end of this guide, I'll explain how one would automate the node placement.
---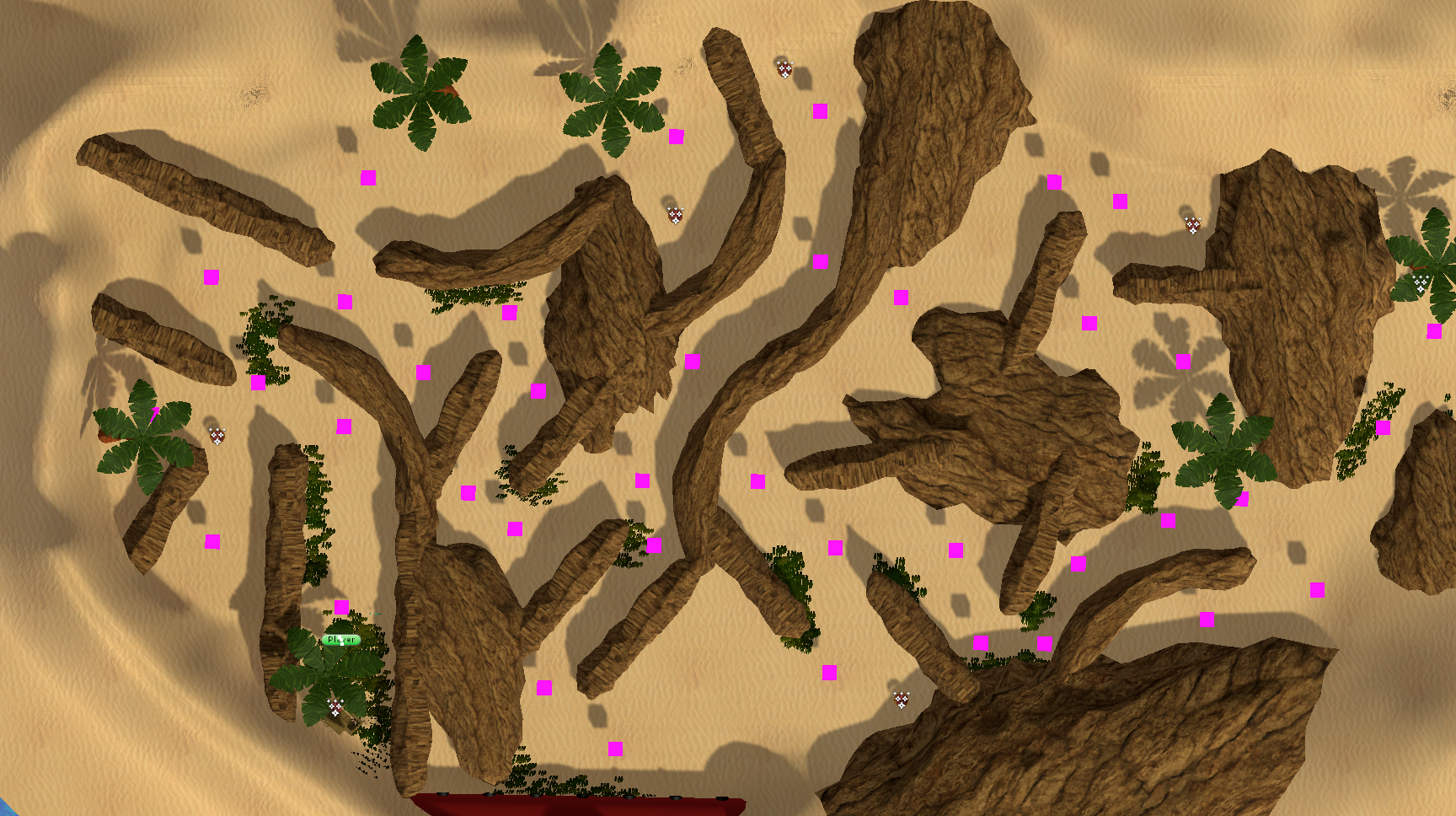 ---
In order to fill in our DijkNode table with an algorithm, we need the transforms of these nodes as well as a way to see which nodes "connect" directly. If we can reference these, then we can literally achieve everything else through our algorithms. Below I'll place an image of a visualisation of all node connections.
---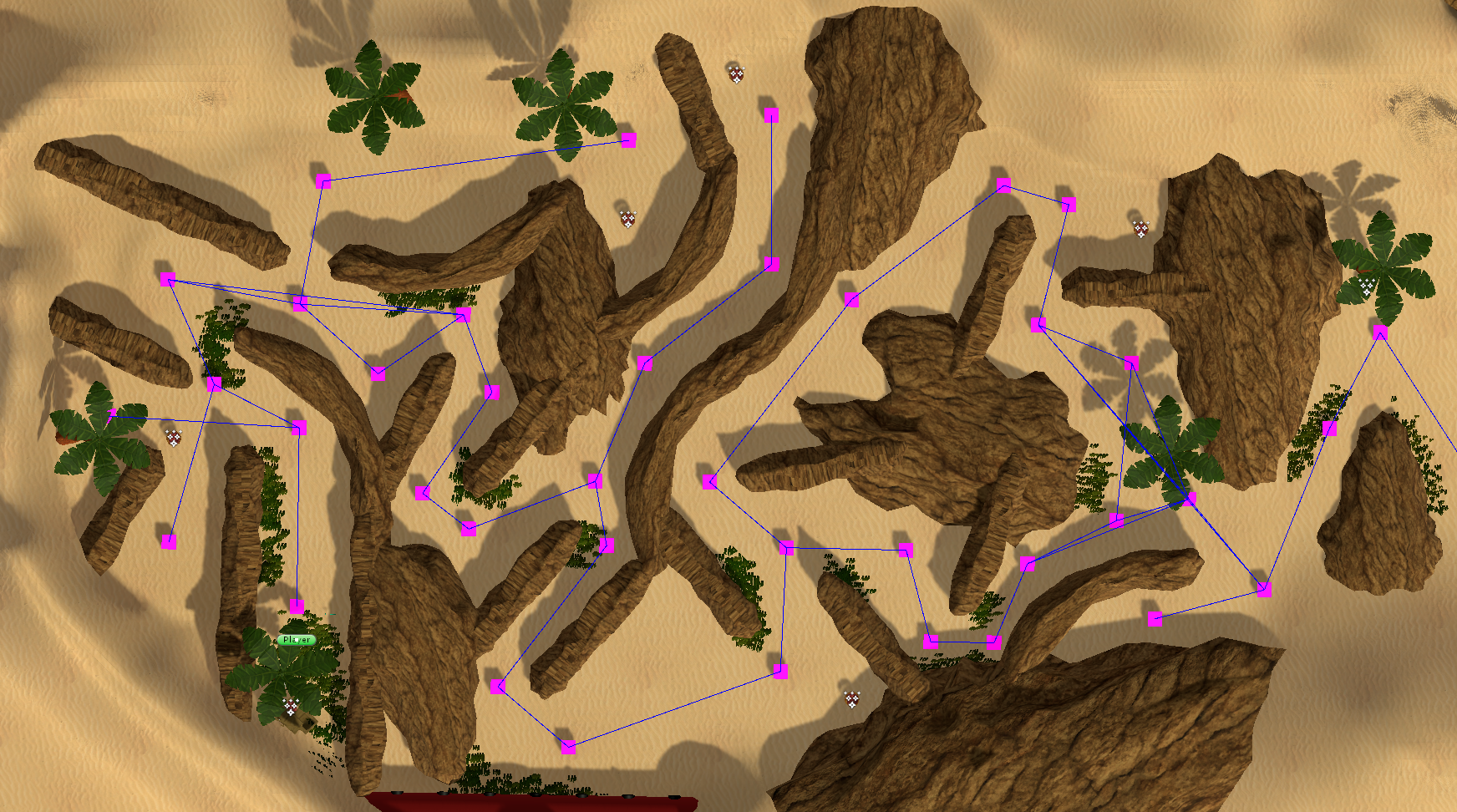 ---
---
Beam Casting (Wide Ray Casting)
If we simply ray cast from node to node, we will have a connection, but when we think further about what this connection means, then we see some problems with this approach. A ray cast from one point to another identifies that an infinitely thin space exists between two nodes, but as far as we know it could be a pinhole, which is not going to be a path at all unless your AI character is a tiny fly or a speck of dust. Of course for the case of carefully setting up your own nodes, you can easily say, "hey I'll never do anything stupid or lazy like that, I'll put my nodes exactly where they need to go". Even so, we'll be efficiently raycasting a lot to find our character the correct closest nodes, so let's use this function I've cooked up for easy checks for connections that are wide enough for our characters to get through.
The creatures in Plunker are generally pretty huge, so I start with 2f as the width, but this function will do two raycasts parallel with the Y(upward) plane. Imagine the rays being the edges of a beam like the light bridges in portal. If the entire beam can make an uninterrupted connection, then we can say that the characters of a similar width can also walk that path. Let's take a look at how we use this to iterate through all of the possible node connections in a one-time initialization.
---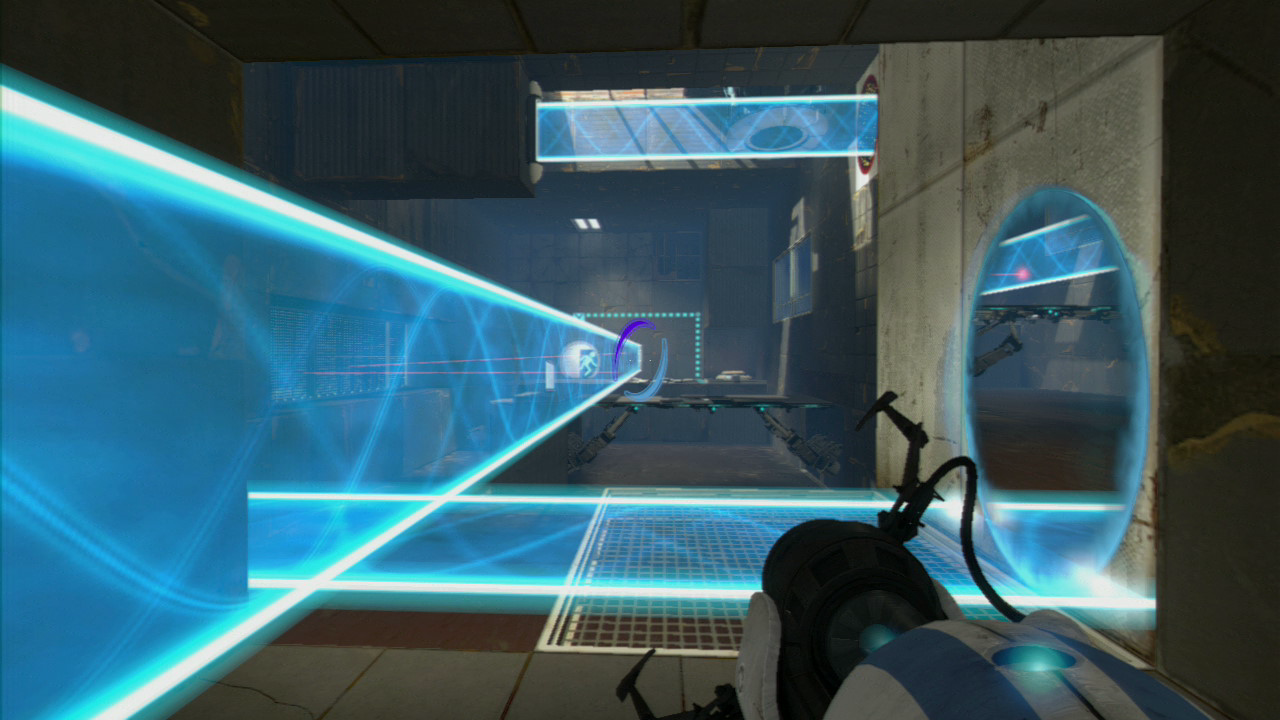 ---
The following code block is the first half of the initialization function for our DijkNode table/database of shortest paths. The first thing we do is set references of transforms to each DijkNode, and initialize Lists. At the same time, we check on line 16 there if we are at a DijkNode referencing its own node. Remember each DijkNode is exists only to describe the connection between two nodes. If our indices are the same, like the DijkNode located at network[x,x], then we will have a min_dist that describes the distance of the minimum path between node x and itself. This should always be 0. We will use this to help us in the next section. We also initialize our min_path saying that the path from x to x is one node, x.
Next, we iterate through them and BeamCast between each. When there is an uninterrupted beam, we add to a list of indices on our DijkNodes that can be connected. Notice how we have set the for-loops to only check each connection from one direction. This almost halves the work for the computer, remember this for later when I highlight how we could do the same elsewhere.
---
Applying Dijkstra
At this stage, we have information and can easily plug everything into a Dijkstra style fastest path algorithm. I'll paste this gif again in hopes that you see the steps in both the gif and the code.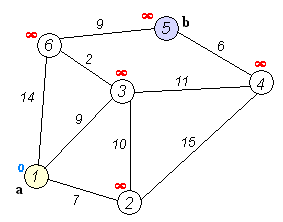 We'll iterate through each row of DijkNodes, in this way we'll find the fastest path to each of the DijkNodes from whichever row we're on. Row 0 will be an Array of DijkNodes that contain the fastest paths from node 0 to node x where x is the index of each other DijkNode. We want to process each node exactly once, but we do not want to process them in numerical order of their indices. For row 0, we'll start at DijkNode 0 and crawl outward based on connected nodes. Each time we process a DijkNode we look at its connected nodes, current min_dist, current min_path, and we update the connected nodes with new minimum distances from the start node along with min_path that we have stored at each node.
How do we crawl outward? It seems like a simple problem for a human eyes but when you think of using nodes as references you can think yourself in absolute circles. We start with a loop, only operating on the node with the current lowest minimum distance from the starting node (remember untouched nodes have a min_dist of float.MaxValue), and one that has not been chosen. When we finish processing, we update all of the connected nodes and mark this node as processed. We then loop back to see a couple new nearby (no longer MaxValue) nodes with distance information that have not yet been marked as processed/finalized. So long as all of the nodes have some connection to the rest, each one will be processed once and the loop will end having processed the entire network. Each node should have been updated with the fastest path and distance values.
It's ok if this takes some time/effort to sink in. Maybe even some clarification on my part, but I hope you can see that by the time we pass through the whole table, we can now use it as a look up table like this: "network[startnode,endnode].min_path".